Memorable music and a glowing reputation
Holland is best known for its cycle friendly atmosphere, spring tulips, and iconic windmills. Ask many locals to name another Dutch trademark and many will refer you to the best entertainment band in Holland, Sonny's Inc.
With their memorable music, Sonny's Inc. has performed in front of royalty and at every major venue in Holland. Along the way they've built a glowing reputation with their unique sound and distinct catalog of songs in English, Dutch and Spanish.

"I started to make music because I wanted to make people happy and provide them with a mental break."
says Sonny Hoogwerf, the group's founder and lead singer. In the late 1990's, Sonny began building a diverse band whose talents could switch from one style to another. His desire was to produce a rich mix of rock, soul, jazz, Latin, folk, and dance music; a sound that audiences would find both familiar and unique. The seven-piece group Sonny formed was a collection of Holland's finest musicians, all trained at the Academy of Music.
The seven-piece group Sonny formed was a collection of Holland's finest musicians, all trained at the Academy of Music. Those who saw their performances were witnesses to the band's unique ability to make them feel a part of the performance. They did this with their eclectic song list that drew from the works of legends Stevie Wonder, Earth Wind and Fire, Robbie Williams and Frank Sinatra. And, just when you thought you've heard it all they delivered a sultry, seductive Latin vibe.
Video Clips
Over the years, Sonny's Inc. has become highly regarded for mastering an ability to combine hit tracks with their own originality. Click on the featured links and discover the mystical sounds of Sonny's Inc.
"It's a performance born out of authenticity, it's important to me that people know that I'm not faking it."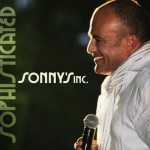 The album's title, Sophisticated, reflects the big band's style of fusing six horns, piano and a rhythm section to produce a unique mix of soul, jazz and latin tracks.
Sophisticated. It's sexy. It's soulful. It's uniquely Sonny's Inc.
"It's the aspect of music that I'm most proud of, finding musicians that are able to switch from one style to another and do it as well as anyone."
Among their thousands of performances, Sonny's Inc. has had the honor of performing for the Royal Family of the Netherlands twice. In 1998, at The Palace Het Loo for the marriage of Prince Maurits and Princess Marilene of the Netherlands. Then again in 2004, _ for the official inauguration of Calatrava Bridges for the Royal Highness Queen Beatrix.
Sonny's Inc. has played with much pleasure for among others: La Promesse Groep, Joop van den Ende Producties, De Mol Wentink Evenementen, Stokvis Evenementen, Peters & Ter Linde, Marc van Laere Producties, IDTV, De Otter & de Vries Producties, Incentive Holland Business Events, Dechesne & Boertje Business Events, Nike Event Consultants,Target Entertainment, Planet Events, Bernie Brilman PCO, Jean-Pierre Carlier Producties, Marie Aubain Events, WOP.NL, Team de Boer & Sierhuis entertainment,
Today, audiences throughout the Netherlands crave the performances of Sonny's Inc. which is why they're extremely busy at private engagements, Music Festivals, and a host of other functions. If you are interested in booking the band please contact Marleen Vanlaer
"We love to entertain you!"
In 2006, Sonny's Inc. decided to thank their growing legions of fans and provided them with a free concert in Laren.
Over 2000 people attended the first show and the event was a huge success! Through various sponsorships Sonny's Inc. has continued their annual celebrations in Laren. Thousands marvel at the spectacular lighting show, the special musical guests and surprises Sonny's Inc delivers.Their good fortune, has made it easy for Sonny's Inc. to give back, too. They are involved with various charity events. Sonny Hoogwerf is the Regional Ambassador of the Make-A-Wish Foundation and gave a special performance for the OKI Stichting, a local charity for mentally challenged children. In 2012 Sonny's Inc. joined forces with local artists, Jeroen van der Boom, Rene Froger to raise money for diabetic research.